SEBO FELIX 1 Premium Upright Vacuum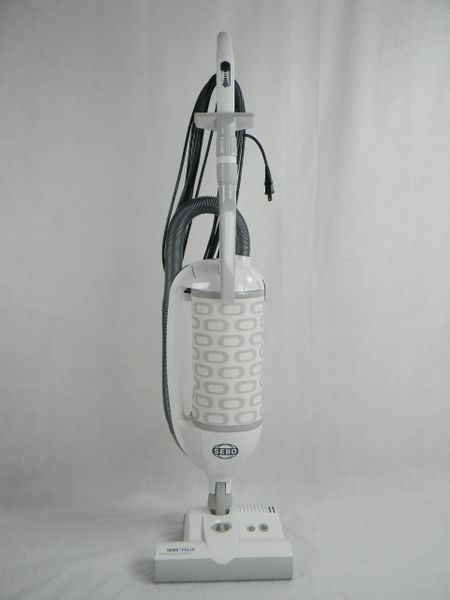 SEBO FELIX 1 Premium Upright Vacuum
Overview:
The stylish FELIX offers all the flexibility of a canister vacuum cleaner in an upright configuration. It has highly maneuverable, 180˙ steering ability, an ultra-modern filtration system, a detachable suction unit that becomes a hand-held vacuum and an instant-use suction hose. The FELIX 1 Premium comes with a parquet brush perfectly designed to clean hardwood floors.
The power head deep cleans carpets and the spinning brush roller can be shut off to clean delicate rugs and hard floors with straight suction.
Power head also has easy brush roller removal and an orange warning light illuminates when brush height is set too high for optimal cleaning, the bristles are worn or automatic shut-off occurs due to brush obstruction.
Product Features:
Flex Neck
4-Level height adjustment.
On/Off switch for brush.
Quick access 6.5 ft. hose.
SEBO PARQUET brush with flex neck and replaceable horse-hair brushes.
S-Class-filtration - ideal for allergy sufferers.
Electrostatic 250 sq. inch. exhaust filter.
Electronic suction control:0-1300 Watts max.
Height adjustable handle.
3.5 l multi-layer filter bag.
2 attachments (upholstery and crevice nozzle)
Working width SEBO ET1: 12 inches.
Choose from different colors: Classic, Ice Blue, Fun, Platinum, White, Rosso.
If you have any questions please feel free to contact me and I will personally answer all of your questions.
The Vacuum Doctor.
1.800.695.8263