Honeywell Central Vacuum 4B H-703A & Electric Hose & Power Head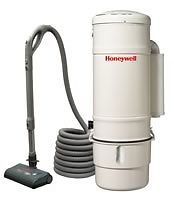 Honeywell Central Vacuum 4B H-703A & Electric Hose & Power Head
Overview:
This powerful new steel Honeywell power unit is so reliable and durable that you will fall in love with it!
Its heavy-duty steel body is quiet and reliable that requires no venting.
Triumph HEPA filter.
This unit comes with a permanent self-cleaning filter and a plastic dirt receptacle with window.
It features a closed system design to collect and remove 100% of contacted pollutants and allergens such as dirt, dust, pollen, mites, animal dander and debris from the living area unlike traditional vacuum cleaners.
Specifications:
Recommended for a home with a max size  of 8,000 sq. ft.
138" suction power water lift.
124 CFM airflow.
590 Air watts.*
14.5 Maximum Amps.*
120V
4 Gallons dirt receptacle capacity.
Hose will work with pigtail cord or direct connect valves.
* At marked voltage, 60Hz. Test data corrected to standard conditions of 29.92 inches Hg. 68˚ F
Mounting bracket for easy and secure wall mounting.
Complete cleaning set that includes electric power brush that adjusts automatically to any carpet height. 
Exhaust muffler.
30 Ft. crushproof controlled electric hose.**
Set of plastic wands, wall and bare floor brush, crevice tool, round dusting brush and three tool caddy.
4 gallon dirt dump bin.
* We will include in the box with the vacuum if you request it before we ship the unit.
For homes that have the installation done a hang the unit kit: 8 foot pipe, two 45" elbows, three long 90˚ elbows, three stop couplings, 8 ft. low voltage wire. This will allow you to hook the pipe from the wall to plug into the central vacuum. You must let us know in advance.
**The hose kit that comes with this item is the upgraded Honeywell H-200 model.