ELX 4000 Twin Motor Deluxe 240 Volts w/ Electrolux CS3000A Accessory Hose Kit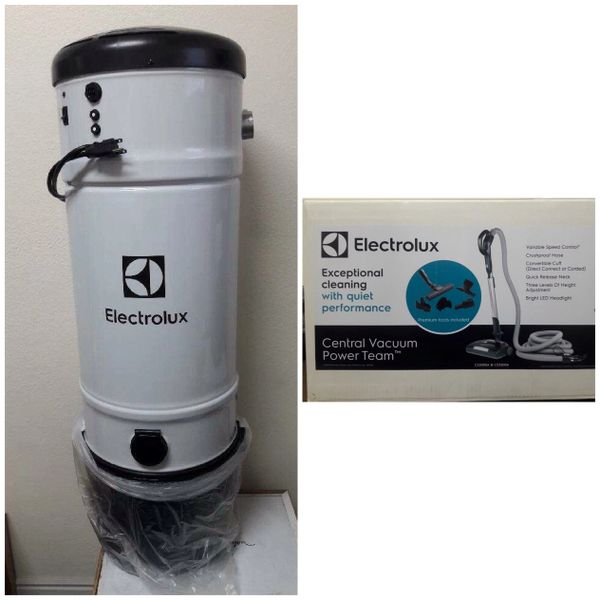 ELX 4000 Twin Motor Deluxe 240 Volts w/ Electrolux CS3000A Accessory Hose Kit
ELX 4000 Twin Motor Power Unit 240 Volts 
This  main power unit model offers  an impressive 1000 air watts of suction  power!
For homes up to 15000 SQ foot homes.
124 cfm of suction power (water lift)
If you're looking for tons of power with a Long Lasting Big Block 7.2 inch fan motor this is your unit.
This Main Canister that hangs on the wall has a heavy duty steel body, with a very strong plastic dirt dump bin with easy flip latch Dirt Dump Bin which WILL NOT bend for a perfect seal through the years.
Sealed Triumph permanent HEPA filter 
Run it bag less 
Mounting bracket included for easy and secure wall mounting from left or right side.
Exhaust muffler
Max amps 13.5
Voltage 240 Volts
5 Year Warranty
Tangential Bypass Motor Has its own fan to keep it cool.
This system can service up to a 15000 sq foot home, this hose has a pigtail cord end or will work with direct connect outlets.
NOTE***  For homes that already have the installation done, if you request before shipping, we will include a Hang-The-Unit kit with the following items: 8 foot pipe, 2-45 elbows, 3 long 90 degree elbows, 3 stop couplings, and an 8 foot low voltage wire. This will allow you to hook the pipe from the wall to plug into the central vacuum. You must let us know you want this in advance; we add it to the box before we ship.
Electrolux 30 ft. Central Vacuum Hose Power Head Accessory Kit Model CS3000A 
New & Improved Power Nozzle Neck Design
New & Improved Metal Telescopic Wand 
It has lock and seal connections with quick release for edge cleaning
Very Strong Serpentine belt with Brush Roll reset, if sock gets caught in Roller brush
Hose handle rotates 360 degrees tangle free
Halogen lighted power head with high/low pile carpet and bare floor settings
Light dusting brush, narrow space tool, and cleaning tools ride on the hose handle and wand
Hose handle will work with both pigtail cord and directly connects for wall inlets
Power head is super smooth and easy to operate on any floor surface
3 Yr. Warranty on hose and power head 
1 yr.  Warranty onElectrolux 30 ft. Central Vacuum Hose Power Head Accessory Kit Model CS3000A 
belt and light bulb
3 in 1 cleaning tool, narrow space tool, and dusting brush for upholstery appliances 
Carpet Power Nozzle with High/Med/Low height adjustment
Hose is universal and the hose end that plugs into the wall can be set up with the 7 foot pigtail cord or all power in valve direct connect 
Deluxe non-electric hard floor brush is included
Hose cover not included 
Should you have any questions, please feel free to contact us at 1-800-695-8263