E-Cloth Mini Deep Clean Mop TD10645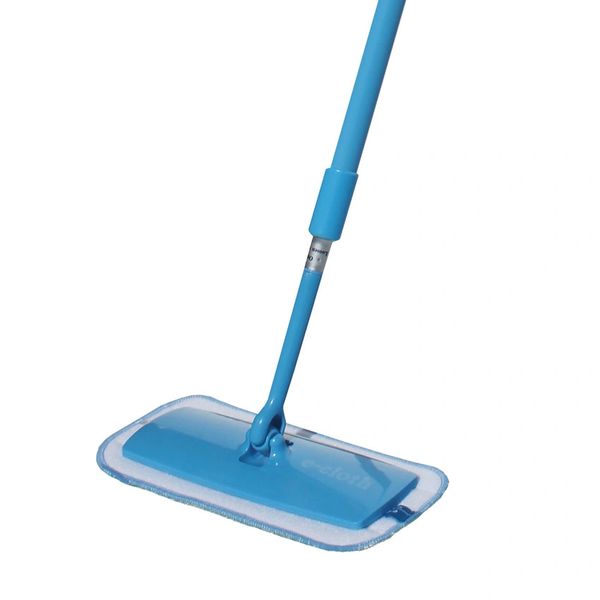 E-Cloth Mini Deep Clean Mop TD10645
Mini Deep Clean Mop
Same amazing power of Deep Clean Mop - removes dirt ,grease, over 99% of bacteria with just water

Lightweight and very maneuverable - easily reaches hard to clean areas in bathrooms, kitchens and all around the house

True Chemical Free Cleaning on all flooring surfaces, just use water

Telescopic handle adjusts so you can clean comfortably regardless of your height - Extends from 36" to 62"

Set includes- one telescopic aluminum handle, one mop head base and one 10.5" x 5" Mini Mop head

Head guaranteed for 300 machine washes
Where to Use:  All Floor Cleaning – vinyl, laminate, stone, ceramic, tile, hardwood, linoleum, concrete
How to Use
Assemble the mop by inserting handle into the mop base joint. The telescopic handle adjusts to the length you desire.
Wet mop head under a faucet and wring out excess water. Place mop head on floor, velcro side up, and attach the mop head to the base of the mop.
During use, the mop head may be rinsed and refitted. An "S" motion is recommended for best results.
Caring for the Mini Mop
A warm rinse is often enough for day-to-day use.
To ensure your e-cloths perform at their best, we recommend machine washing.  With certain new detergents, you can wash on Medium heat, however for best results with normal detergents, wash on Hot.  If the cloth loses performance, it may be boiled in a saucepan.
Use only a small amount of detergent and rinse well.  Tumble or hang dry.
DO NOT use bleach or fabric softener.  Bleach breaks down the fibers and fabric softeners will block the fibers.  If fabric softener is used by mistake, rewash with a little detergent.
Note:  Color may run, initial washes should be separate at low temperature.  For washing machines, a laundry bag is recommended.
Floor cleaning is also healthy cleaning - Deep Clean Mop removes over 99% of bacteria with just water
This mop has the same amazing cleaning power of the Deep Clean Mop, in a small surface area that allows for easy cleaning around toilets and other tight areas that larger mops can't reach. The base is on a 360° swivel so it maneuvers into corners and around obstacles easily. The modern fiber technology that penetrates and removes dirt, grease, oil, grime and bacteria much better than common mops – and it does it with just water! Gone are the days of using "mystery" chemicals to push around dirt on your floors.
80% polyester / 20% polyamide
If you are interested in more Ecloth products, have any questions or concerns, please call us at 1.800.695.8263