E-Cloth Flexi-Edge Floor & Wall Duster TD10641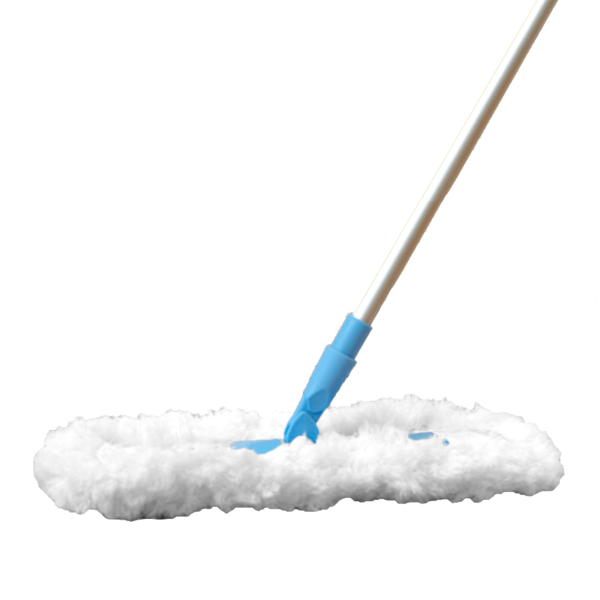 E-Cloth Flexi-Edge Floor & Wall Duster TD10641
Flexi-Edge Floor & Wall Duster
Includes one (1) Flexi-edge Floor and Wall Duster Mop and one (1) Flexi-edge Head

Flexi-edge Head 17.5" x 5.5"

Telescopic handle adjustable 3ft - 5ft

Removes dust, dirt, hair, cobwebs and allergens from floors, walls and ceilings

Better than Swiffer®* and other leading floor duster brands:

Outperforms – cleaner floors in less time

Multi-purpose – cleans floors, walls & ceilings

Stronger stick – does not bend during use

Re-usable head – 100 wash guarantee saves money over disposable cloths

Environmentally friendly – significantly less waste than disposable cloths

Flexi-edges clean into corners, baseboards and easily around legs to chairs, tables and any other furniture

Lightweight and highly maneuverable

Head is 100% polyester.
Where to Use: Floor Cleaning, Wall Cleaning, hardwood, linoleum, vinyl, laminate, concrete, bamboo
How to Use
Adjust the telescopic handle to the desired height (hold the bottom of the handle near the base and twist the top section to the right. Extend to desired length and then turn to the left to tighten). Use dry to dust floors and walls.
Between washes, shake head to remove dust and debris.
Caring for the Flexi-edge Floor Duster
Remove fluffy head from flexible base. Machine wash in WARM WATER ONLY, regular detergent, no bleach, no fabric softener. Use only a small amount of detergent. If too much detergent is used the performance can be affected. After machine washing, shake fluffy head to separate fibers and hang to air dry. Do NOT tumble dry. Do NOT boil.
Do not use bleach or fabric softener. Bleach damages the fibers and Fabric softener reduces performance. If fabric softener is used by mistake, rewash with a little detergent.
If you are interested in more Ecloth products, have any questions or concerns, please call us at 1.800.695.8263