Ascendant Central Vacuum 35 foot Hose Accessory kit. Rechargeable Head for carpets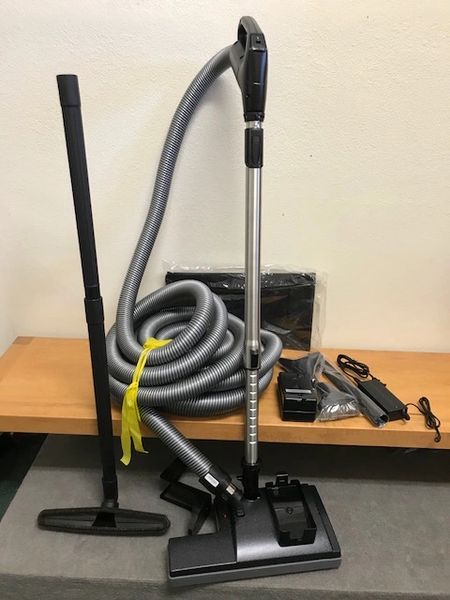 Ascendant Central Vacuum 35 foot Hose Accessory kit. Rechargeable Head for carpets
State of the Art New Technology Ascendant 35 Foot Central Vacuum Hose Accessory Kit. 
Featuring Rechargeable Detachable Battery Works on  Carpet And Bare Floors.
The Battery Powers the 14 inch carpet roller Brush.
  Add The Ascendant to Traditional central Vacuums or use with Hose Retraction systems.
This is a GAME CHANGER in so many ways. lower cost to maintian, fewer Repair issues. 
Works with all types of Central vacuums ports, and  Retractable Hose systems.
No need to run 115 volt high voltage  to each hose inlet valve  port, for far easier installation. Much easier to replace port faceplates (when needed)
on/off low voltage switch on hose handle. Turns on and off the main power big Canister Unit that hangs on the wall.
Foot Switch Activation Estimated run time 1 hour. 2.5 amp Charger Included 1 Hr 15 minute charge time.
Very Quiet and Strong Poly V Drive Belt with reset. Chevron wood Roller Brush 14 inch. 
Oversized Rear Rubber Rear Wheels. for use one bare floors.
Weight w/ Battery 6.5 pounds
Warranty 1 year Nozzle ,90 day Battery.
Comes with 35 foot hose with on/off switch, Hose Hanger, carpet power nozzle, Hard Floor brush with wands,
Dusting Brush, Crevice tool, upholstery Brush, 
Please feel free to call if you have any questions 1800-695-8263 or 801-372-1149 cell.